Eurotrip.

Over the summer I took the trip of a lifetime. Complete with unexpected events i spent quite a few weeks crammed into thisbus load of americans/canadians/alcoholics/kiwis/aussis travelling around Europe. Honestly i never thought these words would come out of my mouth but i miss that damn bus. With all my heart i want t
o be on it. I could


honestly say that, at that time, and even now there was
nowhere in i would have rather been, and nobody i
would have rather been with than these amazing people.
Never in my life have i gotten to know so many beyond amazing people in such a small amount of time and in such a small space.

I saw some of the most beautiful places, met some of the most beautiful people, drank in every city in europe, lost my passport, fell in love, made amazing friends and amazing memories. What more?

Here's a look at some of our adventures...


London, England




london has always been my favourite city in the world. the insane tube. the gorgeous accents. the rain. the sun. the thames. the music. the fashion. the boys. the girls. the guards. the city is never ending. you can be whoever and whatever you have always dreamed of being there. if i diddn't have to. then i would never leave. one day i am going to call this city my home. i just know it.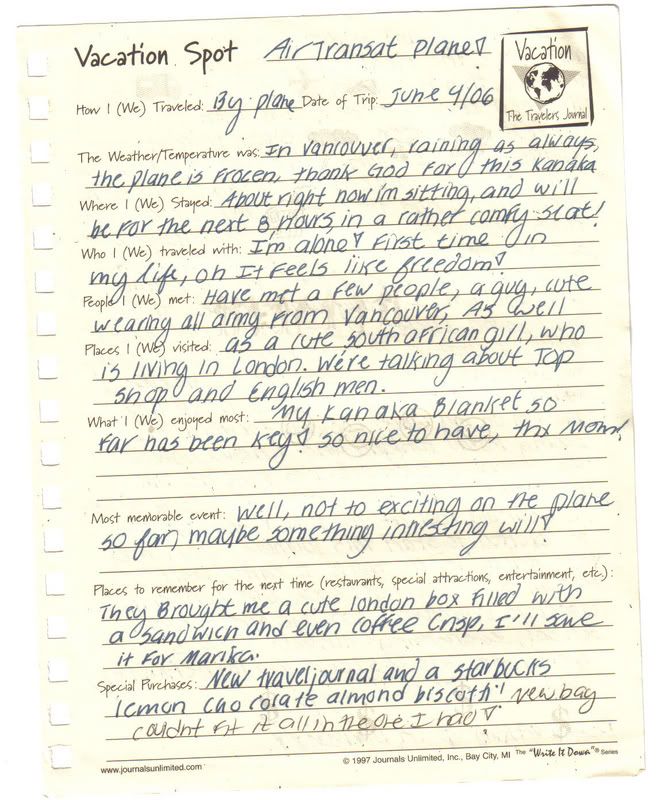 the best friend of all time. the best city of all time. couldn't ask for more.







contikis::
not much to say about this place contiki-wise but. no matter what you do. make sure that you spend an extra 5 days at least here before or after your tour. there is so much to see and do and explore. so many people to meet and so much history to discover. contikis:: if you're anything like me, by now you've probably read all the bad reviews about the royal national hotel. they arent true or at least the rooms we are put in are kept in perfect shape. contiki wouldn't put you in a bad place! just beds, bathroom, shower, tv, everything you need! i went to my contiki meeting, but alot of people diddn't. if you're having a really good day downtown or have other plans, dont cancel them to go to your meeting. you just do a quick passport check and pretty much go. you will meet everyone tomorow. just be outside at 6am! make sure your luggage is not over the weight. 25 kilos. they will make you take stuff out - they did it to me - but the good thing is, this is the only time the entire trip that your baggage is weighed. just bring an empty duffell bag/backpack to shove your extra stuff into! oh yeah. alcohol is duty free on the dover - calais ferry. so buy it there. it will be the cheapest alcohol of the trip. other than wine in beaujolais. go see a show. go to a walkabout.








this is what we do at 5am when excited for the first day in our fav city.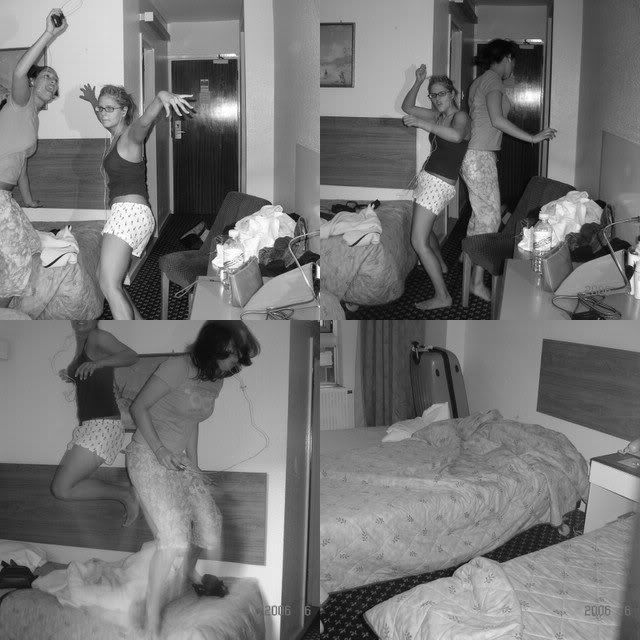 Get cape. Wear cape. Fly. and meet our new friends. and my myspace bf.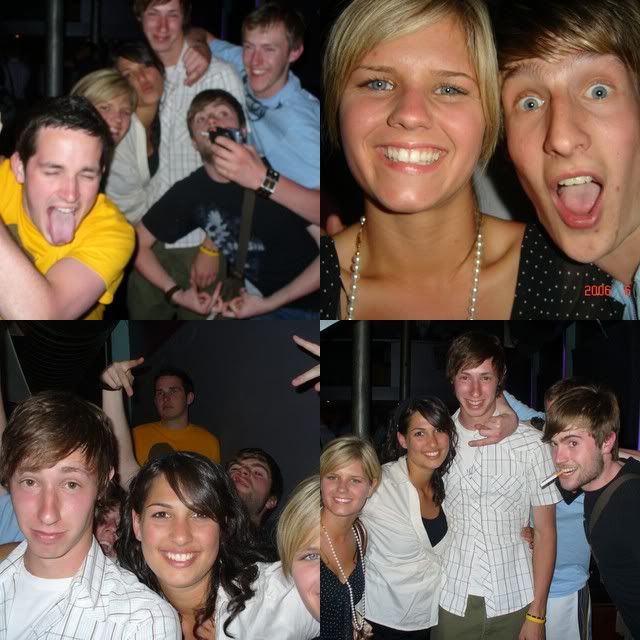 after a very long trek through the back alleys of london we found 93 feet east.



les blonnettes on the ferry from dover to calais. first day. yes we were best friends within the first few minutes of our ferry to paris. how lucky was i to have the 4 most amazing girls in the world on my tour. i love you girls for life.



Paris, France

the city of romance stuck to its title.


the first time I ever arrived in this city i couldn't stand it. the second time around, and 5 years later, that completely changed. never could i dream up a more gorgeous city. despite the first impression that the parisian people give off they begin to grow on you. the champagne and caberets are must do's. the chairs and tables of restaurants and side walk cafes all face towards the street. to people watch. the peoples desire for people is unending here. if you've heard this is this city of romance. i can tell you from first hand experience. it is.



just on the outside of notre dame. i think we made a pretty good addition



gay paree by day...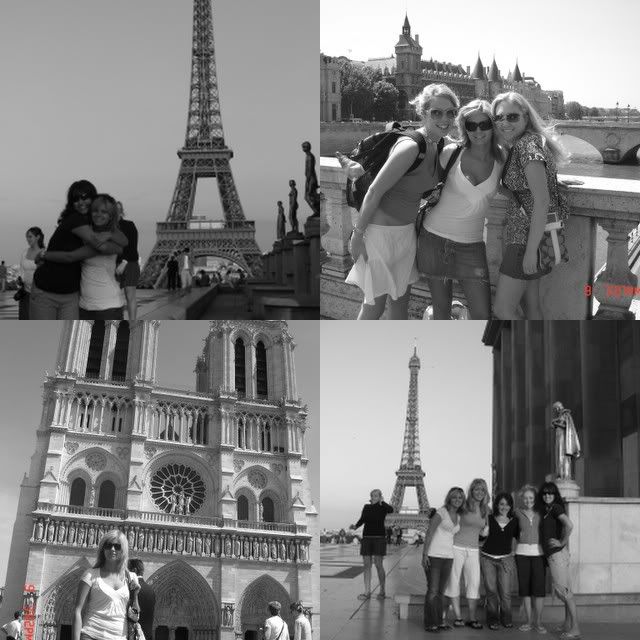 Contikis::The campsite in Paris is cute. i guess ahah. i was too excited to worry about what my bedroom looked like. not like i would be using it anyway. hhaha. wooden small cabins with bunk beds. shower/toilet/sink all in one 4ft room. whatever. you spend 20 minutes in the bathroom the entire time your there max. go have fun at the campsite bar. awesome way to get to know people at the beginning of your tour just remember dont bother buying alcohol to drink at the bar from somewhere else. cause you cant. on your second morning in paris, the night after the caberet/o'sullivans dont go into town on the bus. get an all day bus pass for like €7 and you can sleep in and get into town the exact same time as everyone else on the public transit which leaves right from the campsite. i shopped like crazy here girls. too much nice stuff. paris. barcelona. athens and florence are the best places for shopping. hmm what else. Palace of versailles was worth going into. the louvre. well its a must see as well if your into art. its sort of mandatory - when in paris do the louvre! eat in a sidewalk cafe. go to the top of the eiffel tower. it is more than break taking. light a candle in notre dame. get a picnic blanket and lie on the grass to the left of the eiffel tower. kiss sombody. its paris!The Dinner in Paris:: okay well im not gonna lie. i diddnt go to the first group event. about 10 of us decided that we were going to go find our own little place to have dinner since we werent too excited about duck and escargot after a full day of sightseeing. heaps of people wentm and said it was great. as usual you get a bottle of wine with dinner.La Nouvelle Eve - very very good choice to go to this. was hilarious and at the same time amazing. loved everything about it. bottle of champagne. even if you dont go to the show. GO TO O'SULLIVANS. it will be one of the best nights of your entire trip.



on the streets of paris. ready for a night on the town. day 2.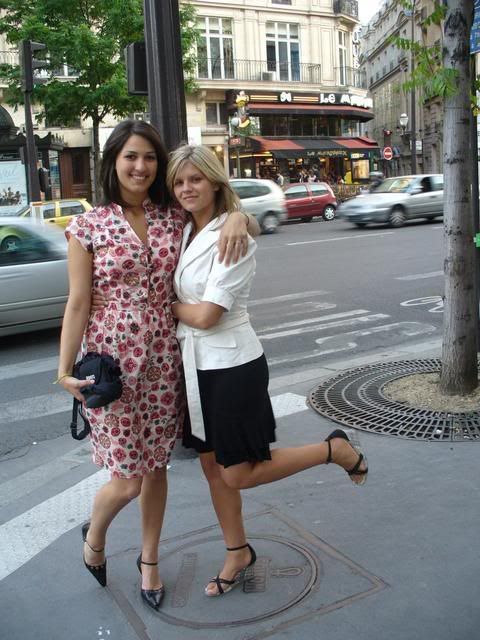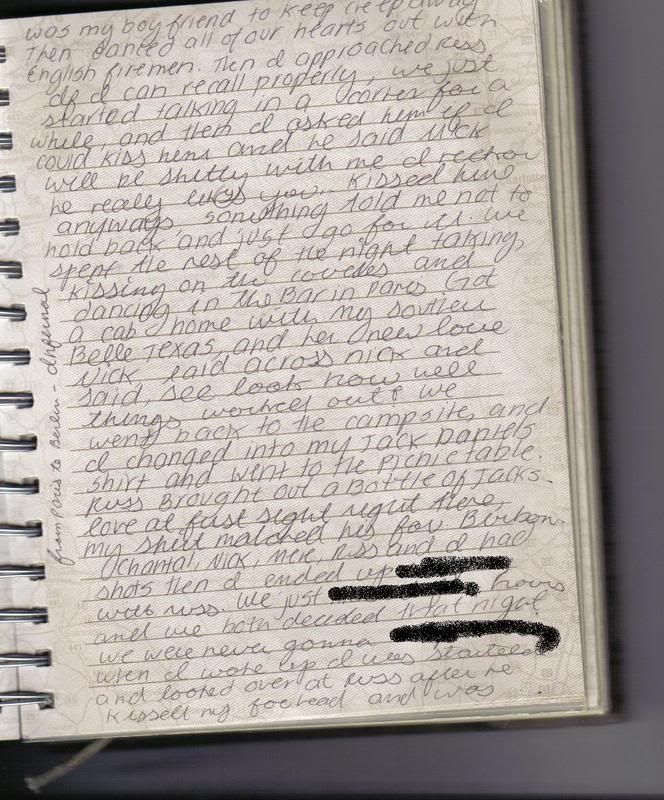 yes. there were 41 girls and 7 boys on my tour. boys you wish to get that lucky.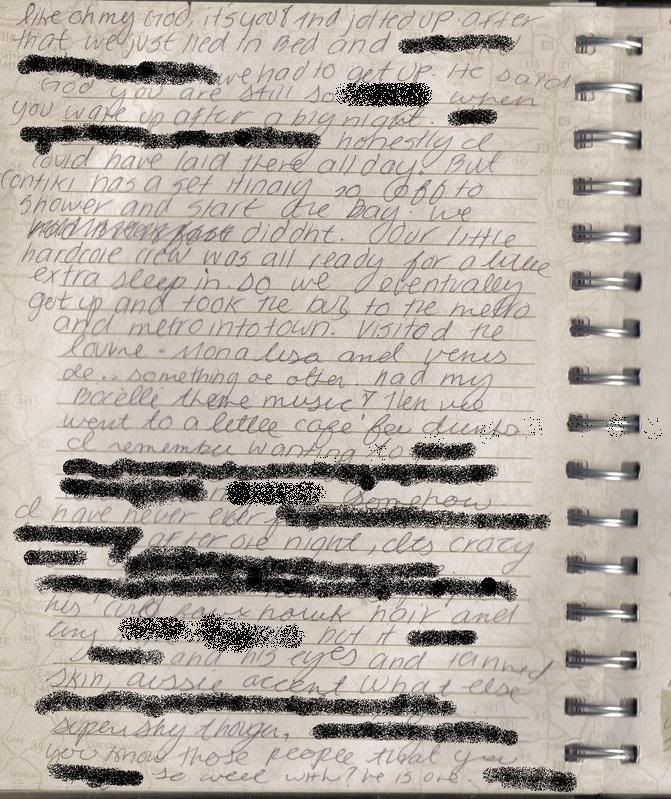 And by night...





Beaujolais, France

drink up ladies. the wine is cheaper than water here.


With a curfew of 9pm for the entire region, there is something magical about this place. Staying in a vineyard in a Chateau is more than anyone could dream of. We could drink a bottle of wine to ourselves and lie in the grass all day and nobody would say a thing. because they all did it to. Looking back I remember how tired i was those few days, and how we talked about being so in need of a rest. Little did I know what was ahead, I should have realized I'd only been going for 4 days prior. With about 20 ahead.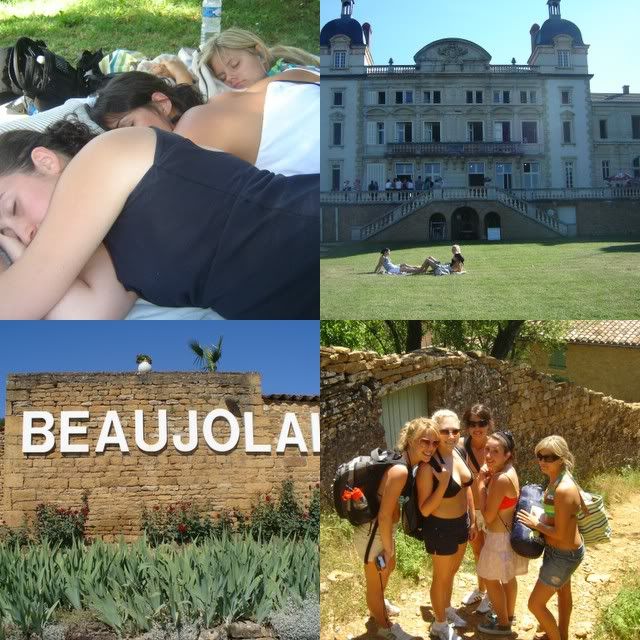 Contiki's:: there are tons of suprises here that i don't want to ruin for you. but. bring a silly costume that can kinda go with any theme. like rockstar. be prepared to drink more wine than you can imagine because the wine is made there - you get a wine making demonstration and tasting in the actual place its made - and wine is way cheaper than the water. the top of the world is quite a trek but well worth it in the end. be sure to get the magnums. you will know what i mean once you get there. theres a pool - wasnt working when i was there but im sure it is now - gorgeous views. one afternoon just lie in the fields and relax. this is the most relaxing part of your trip. there is an underground club called the cave - very cool. ladies. they tell you the power outlets dont work but they are tricking you. the one out side the girls floor bathroom works. if your desprete for the blow dry or straighten. as well as the ones on the first level. the ones in the actual bathrooms dont work but check around. get ready for good food, crazy dancing and perma-drunk from the wine. Top of the world:: this is amazing. do not pass up the chance to do this because you hear the word 'hike' its absoultly breathtaking up there. bring something to lie down on. fill your picnic baskets up with baguettes and wine. wear a bathing suit to tan in. dont forget water. try stalk up on water from the rest stops before you get here because its way too expensive. ahha if you have allergies. watch out up there. take your pill before leaving.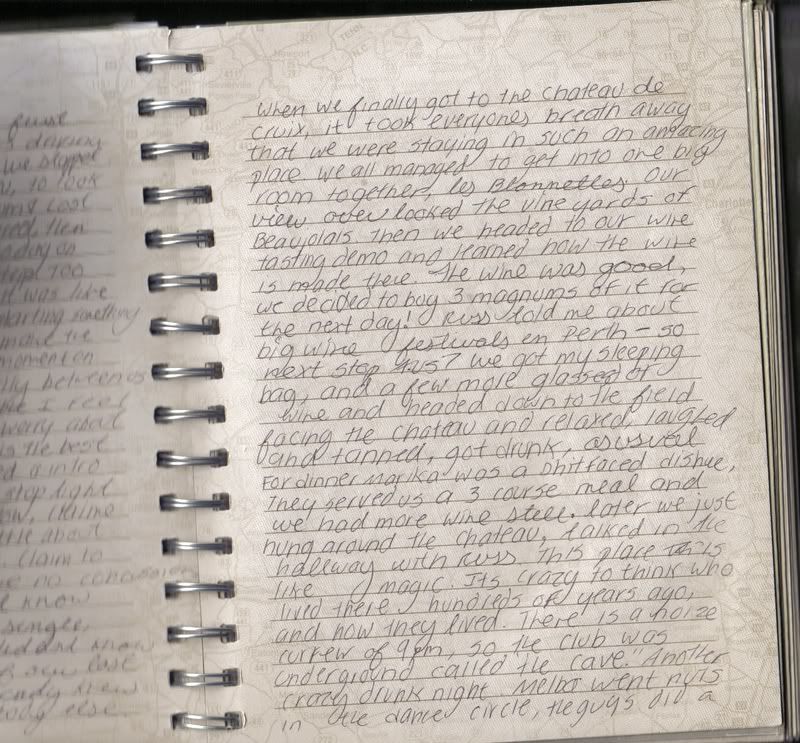 dave and i a little too drunk off the amazing wine. in the cave.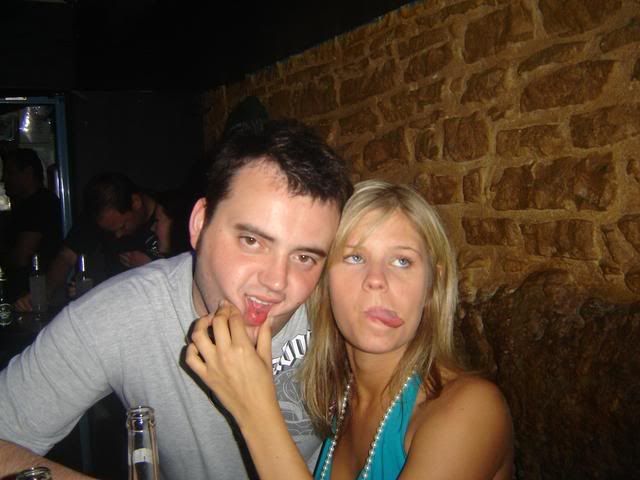 Barcelona, Espana

The Spanish passion for living is contagious.


I love spain. the people. the food. the dancing. Barcelona is one of a kind. Nowhere else in the world do you walk down the streets and see the most amazing salsa dancers dancing away with pure passion.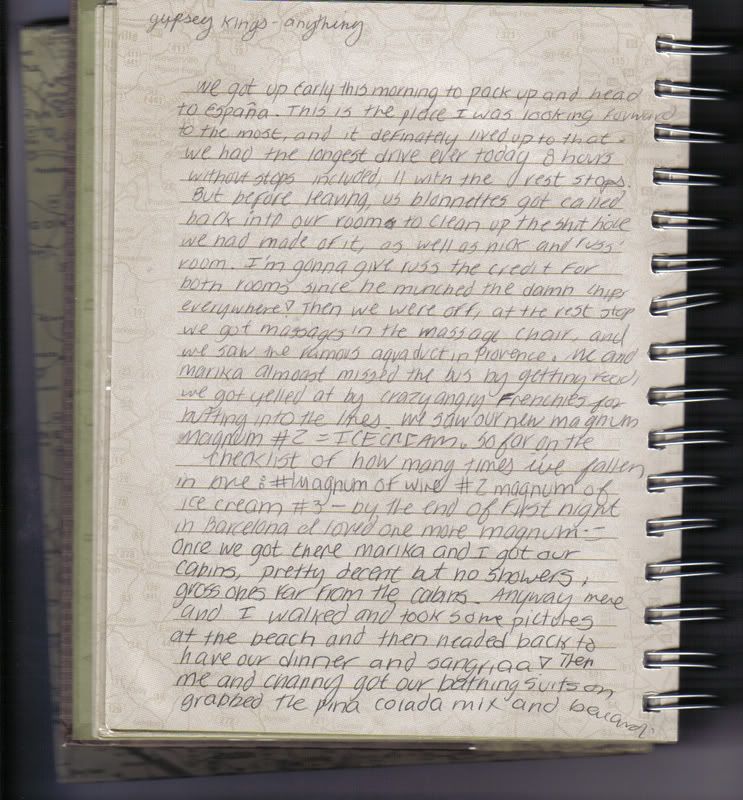 Contikis:: these cabins were great. bathrooms were not in cabins which was a bit of a pain. but they have big hot showers so that makes up for it! just make sure you bring shower shoes! theres internet, phones, and a little corner store to buy all your necessities and more. as well there is a cute little spanish lady who does your laundry for €10. very good chance to get your laundry cleaned, but if you wait till the next stop in the french riviera there is self serve washer/dryer. quite a line up though.Flamenco Dancing: I chose not to do this option because i had been to spain the year before and saw 2 of these shows. probably the most amazing guitar player and singer ive ever heard. from everyone that did go to it, all i heard were very good things. they even teach you how to flamenco!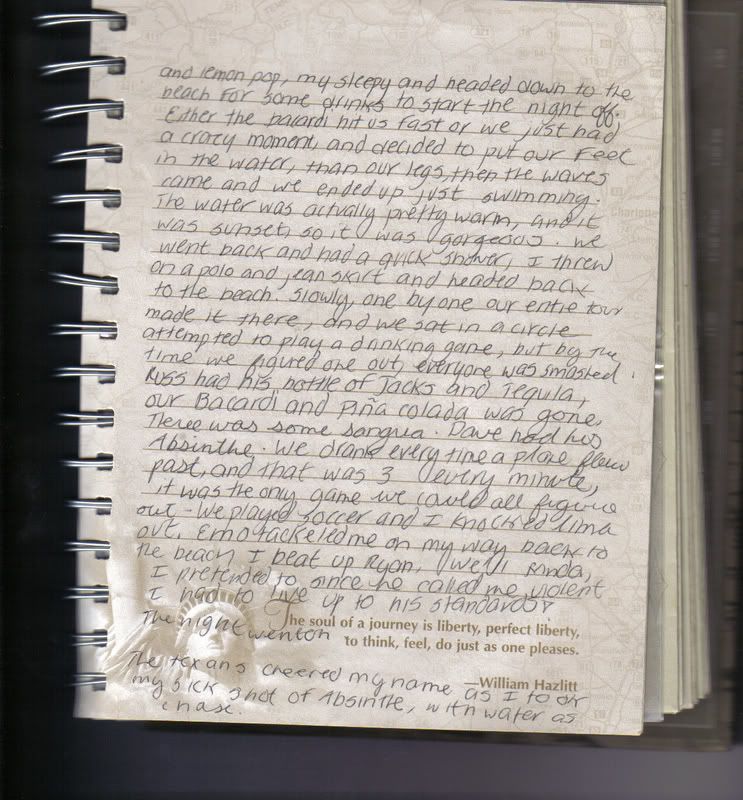 crazy nights in the sands of Barcelona. im pretty sure that may have been the luckiest girl on the earth in that moment.


puerto olimpico. we were a little tired at 6am on our way home from dancing the night away. waiting for the taxi by the water.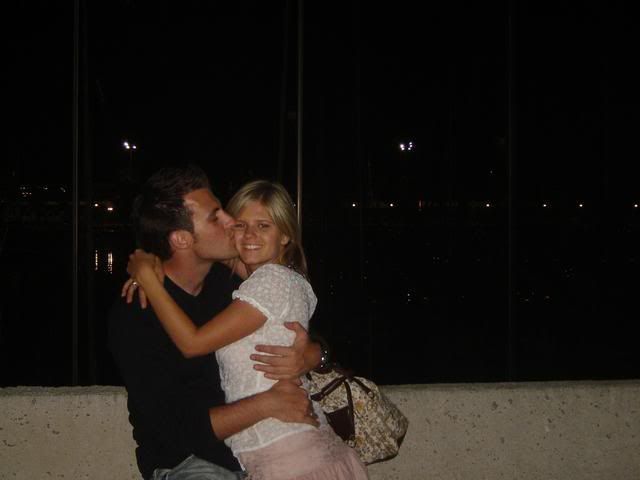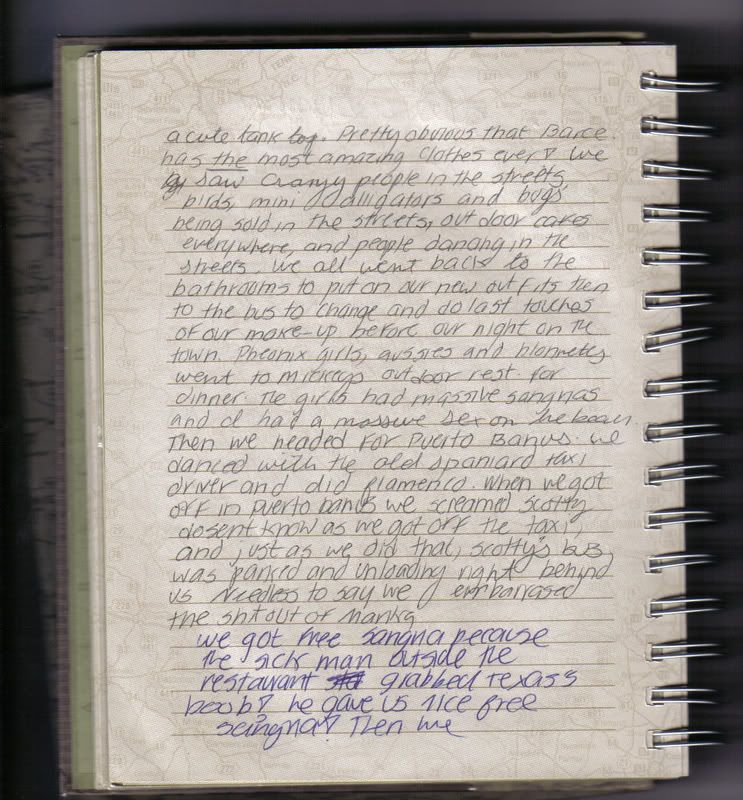 this city is like none other.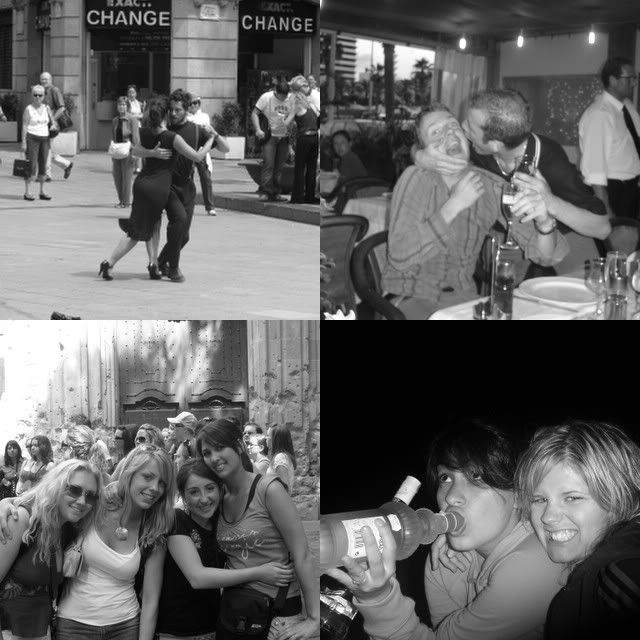 Nice, French Riviera

Million dollar views aka ryans full moon


okay so i guess i got pretty lazy with my journal writing here. or maybe it was that the time i would have set away for writing was spent frantically searching for my lost passport. yes. i am blonde. yes i forgot my passport in barcelona. and i still dont have it. but thats besides the point. we were in the french riviera. spent the first night in our cute cabins these were very nice. the no-sleep ritual was catching up to us that night so we just did some exercise had a couple drinks and headed to one of the girls cabins for a girls night. marika couldent get money out of her bank. i had no passport. definately a much needed time for relaxation until the next day. we got up early and had the choice of nice or cannes. we chose nice and lied on the beach all day. a funny little man came back every 2 minutes selling us more drinks for a euro cheaper each time we bought them. needless to say. smashed. the water here is so gorgeous. ive never seen such blue water. we tanned all day and swam. went for a lunch. relaxed. that night was a crazy one. since going out in the french riveria is meant for millionaires we all ended up partying at the campsite bar. as you see in the pic below we got out of control as usual. the texans from another tour taught us this crazy drinking game. marika clearly lost that game. followed by russ.



Monte Carlo, Monaco
Lifestyles of the rich and famous.

monaco is breathtaking. the amount of money in this city is immense. everything is gold. lit up at night its the most gorgeous. we spent the night wandering around the palace and taking photos. later everyone headed over to the monte carlo grand casino. with my luck you needed an actual passport to get in there. even though i had photocopies. that wasnt enough. ah well. dont forget your passport! all in all the french riviera was one of the most beautiful places of the trip. as well as the campsite with the second funnest bar!

russ. nick. and the monaco harbour. i love these boys.




Verona, Italia
home of romance, romeo and juliette. (and cheap chianti.)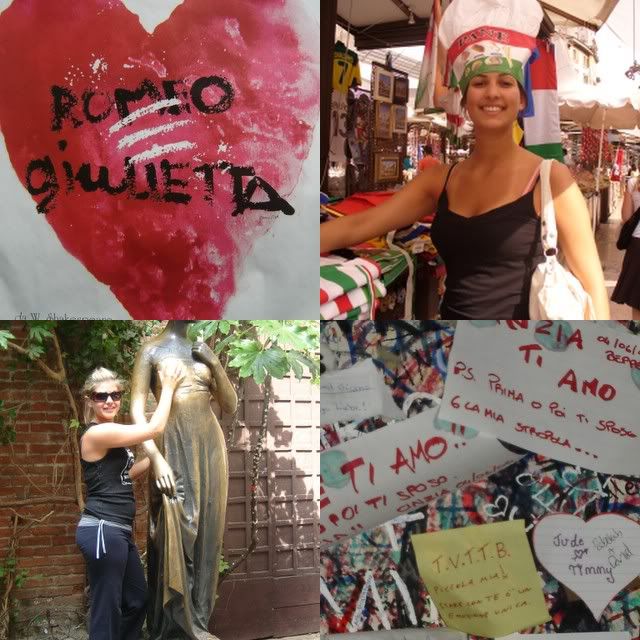 very cool city. shakespear's home of romeo and juliette. make sure you rub juliettes boob for goodluck! on your way to her balcony there is the tunnell of love. probably one of the cutest things i have ever seen. it was a tunnell filled with love graffiti and love notes posted up with gum all over the walls. secret confessions. newly weds. best friends. boyfriends. broken hearts. girlfriends. family. every kind of love is on these walls. chantal and i almost missed our bus by getting trapped in a chianti store. but we ran our little hearts out. chianti in hand and made it back in time. that chianti is now sitting in my dining room. its come a long way. ahah.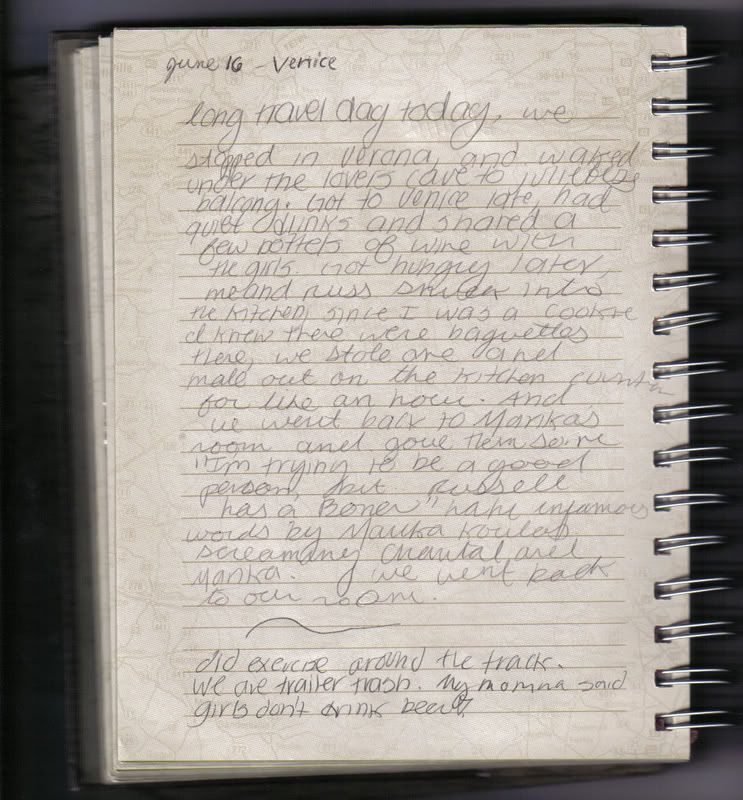 Pisa, Italia
sorry guys. but it had to be done.

we spent a couple hours in pisa, shopping, and taking the must-take pictures holding up the tower ect. i decided to be a little more original as you can see below! after pisa we were on our way to venice.



Venezia, Italia

city of canals. guys i can't beleive it...we're drunk in a gondola in venice.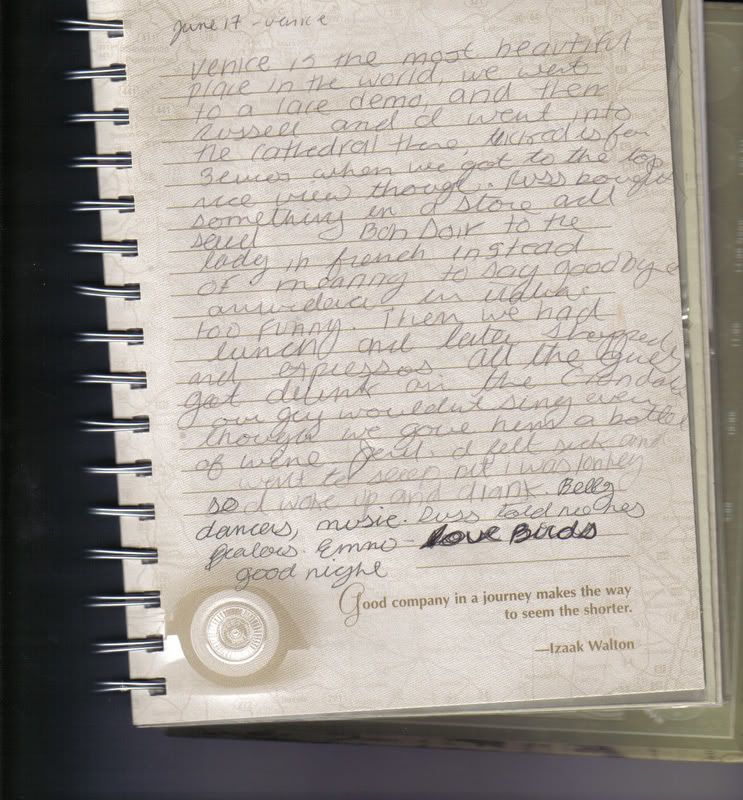 this is the most unique place ive ever been to. you can see as many pictures and movies and read as may books as you like but nothing compares to actually being in this city. in the morning we saw a lace and glass making demonstration and wandered around shopping. russ and i went into the cathedral. russ got his languages a little messed up, meaning to say hello to the ladies in the store he said bon soir. hopefully they didnt speak french ahahah. russ mere nick and i had lunch in an alleyway cafe. mere and i split tiramisu. we got lost in the alleys. and thats a good thing. thats what you're supposed to do in venice.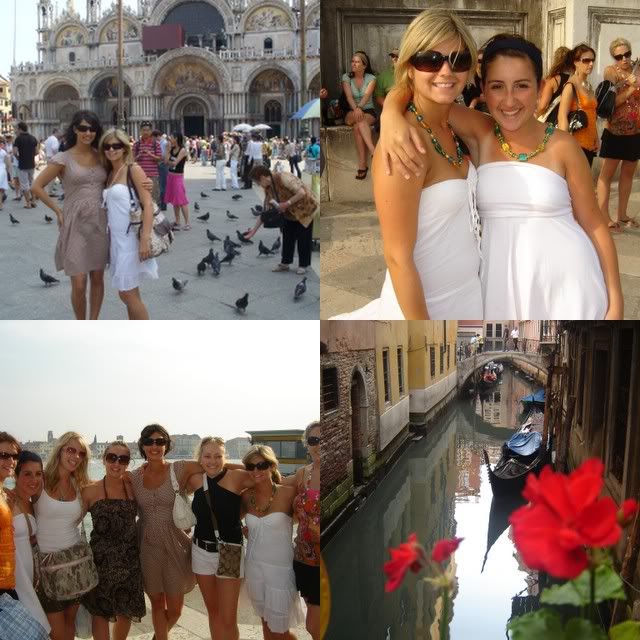 later on after lunch we all got in our gondolas. les blonnettes shared one. we shared a couple bottles of martini champagne. we bought our gondolier a bottle of wine in hopes that he would sing for us if we did. he didnt. so we made our own music. it felt like a dream rowing through the green waters of venice with my best friends in the world. the feeling is indescribable. i have goosebumps as i write this. if you have the opportunity. dont pass it by.



there is the imfamous fusina bar here. try a attitude adjuster. yes. it is crazy. haha try get to a computer a few days after your nights at fusina there will be some pictures of you up there. have the time of your life. dance away.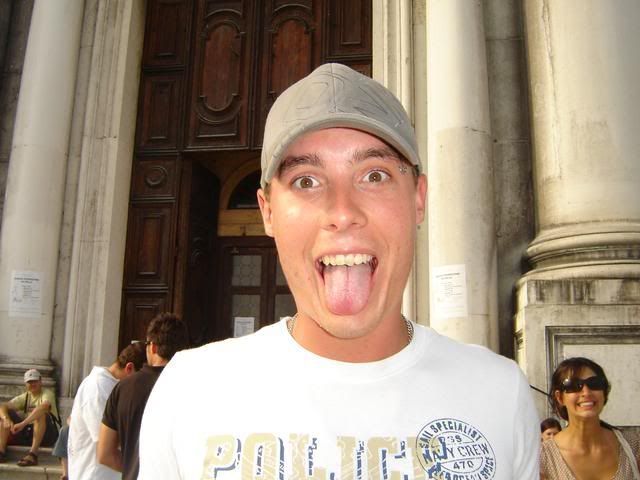 Firenze, Italia

La Dolce Vita has never been sweeter.
home of that sexy david.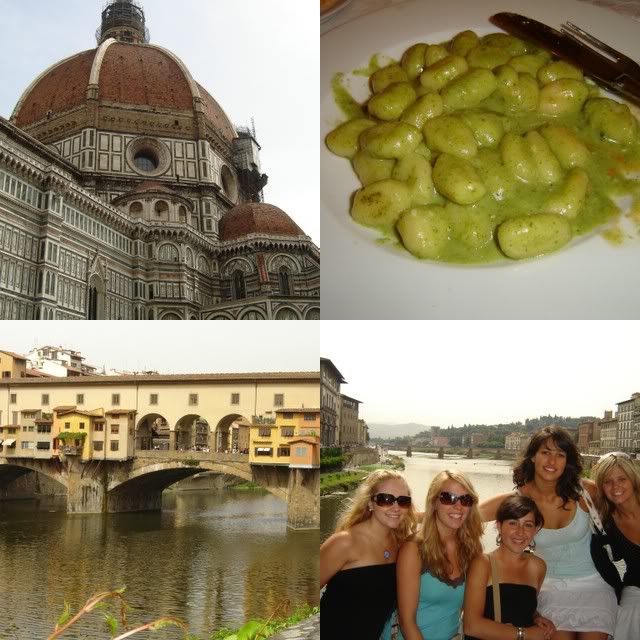 florence is my favourite city in italy. the history here is crazy. as i walked in the streets it was hard to beleive that leonardo davinci was here. we spent the days wandering in and out of cathedrals and stores. later on we went to the pools. we had to wear these very attractive swim caps. the first night in florence we had a huge tuscan dinner which was amazing. after wards we headed to the space electronic disco. danced the night away up and down each and every floor of the buliding. christina marika and i did an entire round of the place. they had big metal round cages we dance in ahha. afterwards russ and i spent hours searching the streets for a mcdonalds. and somehow we finally found one.
and somehow made it back to the cabin. to find marika and lime wearing the swim caps we had to wear earlier to swim in. the next night we went to a karaoke bar. there were italian sailors. this is where the orgasm drink was discovered. 3 pitchers later we were teaching the entire bar how to line dance.
Roma, Italia

The eternal city.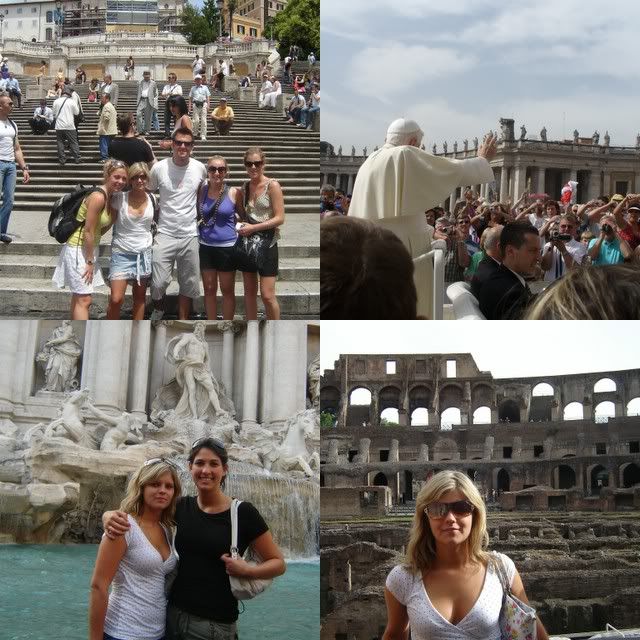 On an evening in Roma. this city is eternal. although i spent alot of time sorting out my lost passport at the canadian embassy it was still amazing. the first day marika and i were at the embassy all morning, then we went to go see the collusium and trevi fountain. we pretended we were hilary duff. and then we had a little italian pata dinner in a sidewalk cafe. we relaized it was getting late so we went to go meet our group at the meeting spot. after waiting there screaming at every contiki bus that drove by. for 2 hours and endless phone calls we realized they werent coming there. we took a taxi to a underground station. just our luck the underground was on strike for the night. after much deliberation we finally found a car that was actually a taxi and willing to take us home. we didnt even know where the campsite was. we only knew the name of it. somehow we managed to get back there by 1am. people were crying andthought we were gone for good. ahha little did they know we were jusy lost. thank god. ended up just having a couple quite drinks and heading to bed. the nxt morning we went to see the vatican, spanish steps and then russ and I headed on another journey to the embassy to pick up my passport. found very cheap alcohol so we bought heaps of it. bortska. when we finally got back after our hours and hours of walking, we headed for the campsite pool. its amazing it has a pool bar and good music! we drank too much of the cheap vodka later on in the night in my cabin i decided i wasnt going to drink it all myself. so like 8 of us split the bottels. the we had a stop light party. as you can see below were all wearing red yellow or green. red taken. yellow kinda taken kinda single. green. single and ready to go! all in all quite the eventful time... ahhh... when in rome.


Pompeii, Italia

Theeess is original. Theeeesss is not original.







Corfu, Greece

Arguably the most spectacular of all.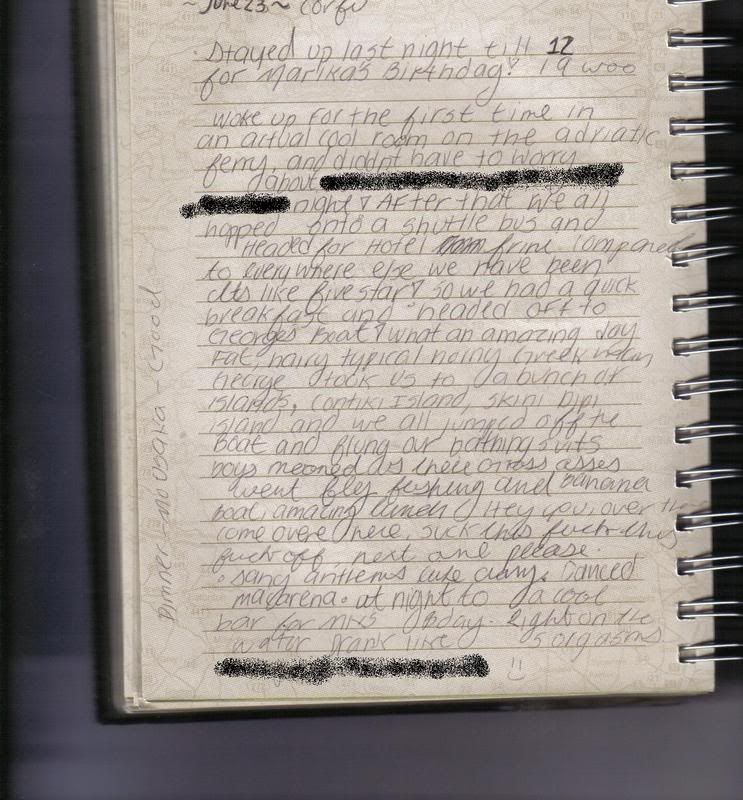 hey you... over there...come here...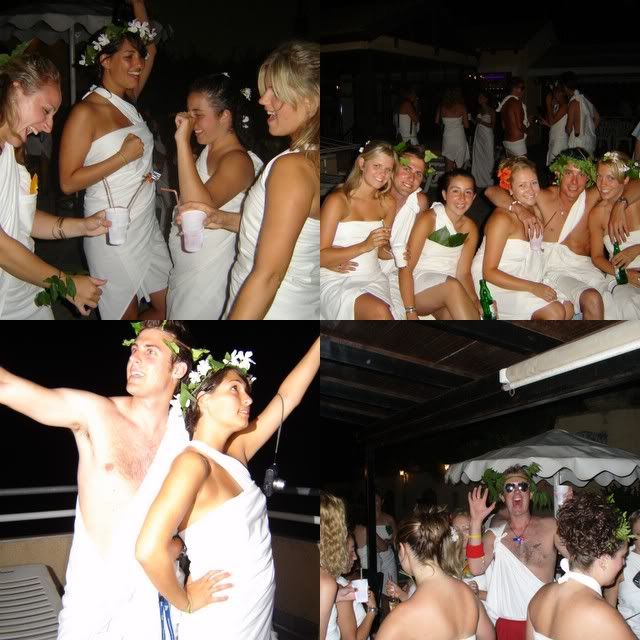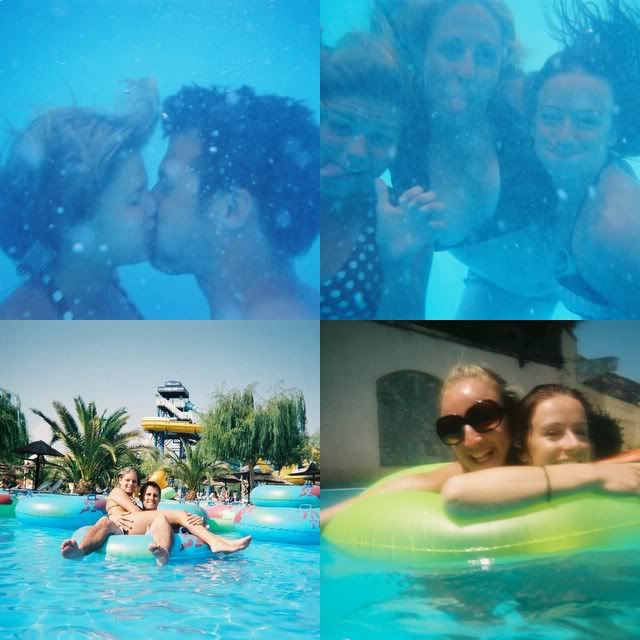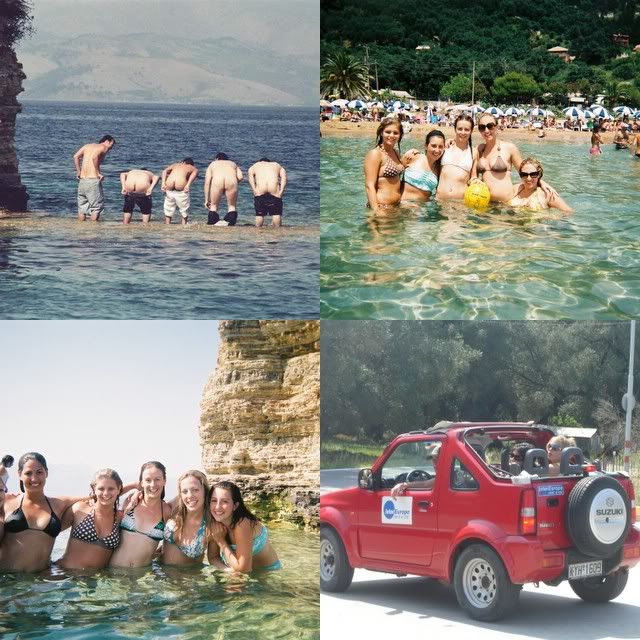 Athens, Greece

Olympians, olive trees, old ruins and ouzo. There's a first for everything in this old city.





Limmasol, Cyprus


where the people never sleep and the party doesnt stop.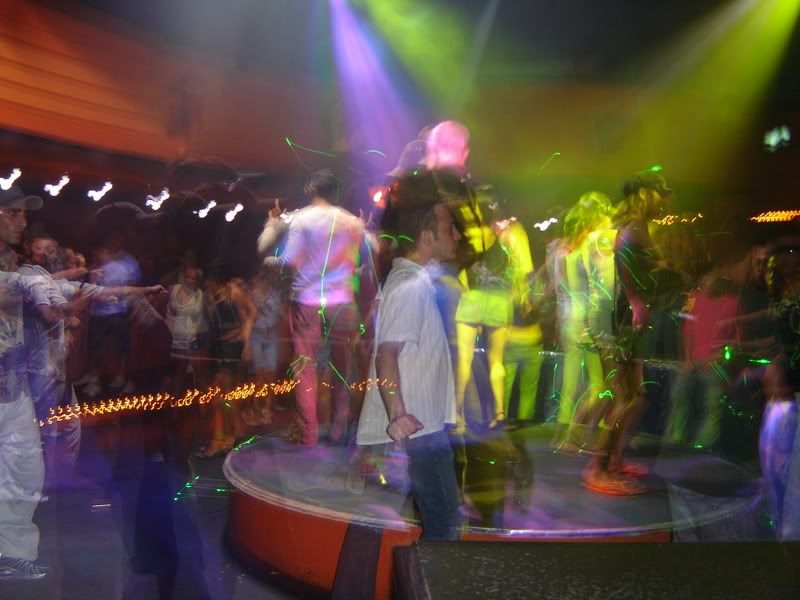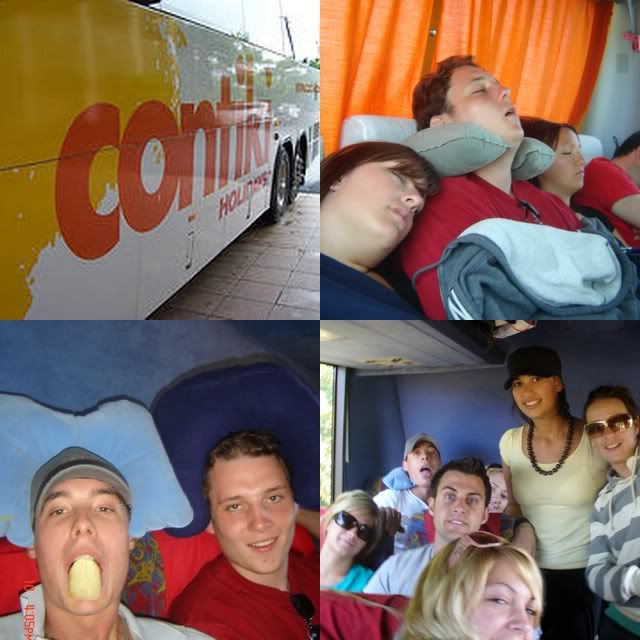 Don't forget your...

So thats pretty much it kids. the best experience of my life summed up onto one page. i always dreamed of taking the trip of a life time, meet new friends, see new places and discover who i was and what i really wanted to be. I'd travelled all over before, to japan, all over europe, mexico, usa, africa, but to be able to do it completely alone is a totally different experience. If your going to do a contiki then here are some of my best tips. Contiki is what you make of it. You can go on one just competely to party, or only to sightsee, or just to shop. Contiki takes you to all the best places for all of those things. But to get the most out of the trip you need a little of each one!

Yes you are going to spent endless hours on the bus. About 6/7 hours between each place. But there are plenty of rest stops and heaps of fun to be had on the actual bus! I used the bus as time to sleep. Believe me, you don't get much of it else wear. A couple of days we were on the bus for 11 hours! Pee at the stops, stalk up on junk food and booze and make use of the time to catch up on your much needed rest! Watch out the windows when you get the chance, the scenery is like nothin you've ever seen before.

Almost everyone on my tour got the 'contiki cough/stomach flu' so be prepared. I diddn't but i was the bus's medicine cabnit! Bring meds along! Antibiotics, and even basic medicines were much needed!

Be prepared to eat the same thing for breakfast everyday, and the same dinner at least a few times. As well as be prepared to be around the same people for the duration of your entire tour. If you are one to get sick of people or are a picky eater, maybe rethink why you are going on this tour!
Contiki is what you make of it. You'll learn to love your ham and cheese on baguette breakfast each and everymorning. You will get a taste of europe. Yes sometimes you are going to feel rushed, but thats what its all about!
1. camera - with heaps of memory/film - i took over 2gb

2. 2 towels (beach and pool one/shower one

3. ipod - load it up with european music before you go. check out the top UK/Euro charts. you will be happy to have it once you get there. Learn to love House/Techno/Dace music.

4. pillow - for the bus and for the cabins

5. sleeping bag - bring along a small one, but a warm one most of the contiki villages/stopovers only have sheets!

6. nice clothes to wear out - okay you go out almost every single night. don't be fooled and pack only your travelling clothes. you're in europe and fashion is huge there. your going to feel out of place and scrubby at night if you dont pack along a few dressy things. I ended up buying abour 5 dresses on the trip to make up for the lack of things i brought with me! Girls: Bring a few nice tops, a couple skirts and a couple dresses. It will be worth the weight. I promise

7. a pair of dress shoes - this applies to guys and girls. shoes are important in alot of the clubs all over europe. guys a pair of black/beige shoes is good, and girls some black pumps or wedges will be perfect.

8. As well as nice clothes, bring practical travelling clothes ie. lululemon/sweatpants/yoga pants for travel days. Also bring clothes you can mix and match. Bring enough clothes to last you at least a week because you dont get to wash them that often! 3/4 pairs of shorts, 1 pair of jeans, 10 tops

9. A clothes line came in very handy, as well as laundry detergent to do your own!

10. a bottle of cough syrup, a bottle of advil/tylenol, allergie pills, mosquito repellent (they are insane in venice/rome be prepared!)

.:Click HERE to see heaps more pictures of Europe and more adventures and my life:.